Hand vs. Mechanical Harvesting with Cabernet Sauvignon (2015)
Stephen Barnard
Keswick Vineyards
Summary:
Cab Sauv was harvested from a single block. It was harvested partially by hand (control) and partially by machine (trial). Once harvested and brought to the winery, the two lots were processed, fermented, racked, and treated separately but identically.
Lab Results: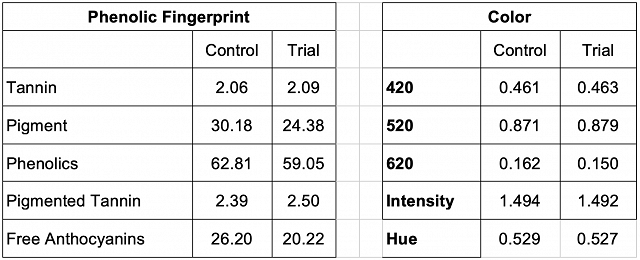 Sensory Results:
There was a significant difference (p<0.05) between the Control (hand harvested) and Trial (machine harvested) . Of those that correctly identified the difference between trial and control (n= 18) 83.3% preferred the control and 0% preferred the trial, and 16.7% had no preference.
Descriptive Analysis:
Control
Appearance:
Deep red, deep core, magenta/purple edges. Young bright color. Hazy.
Aroma:
Spice, dark fruit, violets, low aroma intensity (closed) pomegranate juice, spicy, smoky, earthy, horsey, some ripe dark fruit, dried fruits, oak aromas, toasty.
Taste:
Medium structure but some harsh green tannins, very green flavors remain on palate. Light entry, medium mid palate, astringent and bitter on finish. Good length, volume okay. Slightly tart.
Overall:
Less intense in aromas than Trial, but cleaner, more oak sensation. Green character. Somewhat closed in aromas. Lacks structure.
Trial
Appearance:
Similar color to AG18828 but not as hazy and lighter hues around rim.
Aroma:
Dirty, Bretty, horse stable, spicy, more smoke, more horsey aromas. More intense in aromas but aromas Bretty. More black currant fruit, less oak.
Taste:
Spritzy, tart/sour, harsh tannins, dry finish. Horse stable flavors. Light body but astringent finish. A bit less green - more tannins, aggressive tannins. Needs time to integrate. Lean fruit with some Band Aid flavors.
Overall:
More intense fruit, but stronger Brettanomyces impact (in aromas and flavors), less oak but bigger tannins - not well integrated at this point.